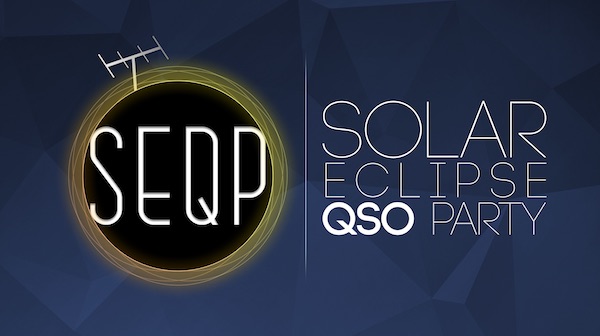 Solar_Eclipse_Radio_Club_Flyer_2017.pdf
Preliminary Results:
108 Contacts, 104 voice, 4 PSK
2017 Solar Eclipse QSO Party from Ford Engineering Lab, David, N8HKU (UPDATED WITH PRELIMINARY CONTEST RESULTS)
Link to the hamsci.org site with preliminary results: http://hamsci.org/publications/hamsci-and-2017-total-solar-eclipse-first-results
2.2kwh used by the Fusion Energi Plug-in vehicle to run the station for 5.5 hours.
______________________________
From: David Treharne
N8HKU

When I had a talk with Tom Gallagher and Steve Ford from the ARRL in March, Tom mentioned that operating from an electrified vehicle might make a good article. He mentioned this as part of his August article in QST as well. On August 21st, there is a citizen science (HamSci, in this case) operating event/contest going on before and during the solar eclipse. I thought this might be a great way to combine this Monday operating event and create the material for a QST article about running Plug-in Hybrid portable. I put together a proposal, attached, and presented it to my Chief Engineer, Brett Hinds. He approved it last Friday, so we have permission to operate a station with a Ford Plug-in Hybrid from the Ford Engineering Lab (FEL, POEE, EEE) parking lot near the pond during the Event!
I will put a flyer together to make this an official club event with FERA, but am looking for help in set-up, operating, and tear down of our station. Here is my plan to date, and comment back on it!
Operators: Volunteers who can take a bit of time out of their normal jobs from FEL and R&E Complex. Other club members and Retirees, if you can come, please do! (If I know in advance, I will get you a visitorís pass so you can come in and use the restroom in the building.)
Setup: Before 10am, if we have people to operate and help.
Teardown, Post 3pm, as the Eclipse is over.
Antenna: G5RV: Fiberglass center mount, tree mount on the ends using a telescoping pole to give the ends some altitude. (I am not going to ask about using an air-powered spud gun or sling shot on Ford property.). Desire is quick set-up and teardown. Ok at whatever altitude we get it at.
Radio: Club FT-991
Computer: My shack computer, same one that was used for SSB on Field Day. Software: Maybe N1MM+ and MMTTY, as the HamSci site has a set up (Eclipse) for it. Otherwise, FLDigi.
Operating modes: Concentrate on CW and Digital (PSK 31 and RTTY). Computer generated code, because part of the HamSci exercise is to use receivers with skimmer software like the Reverse Beacon Network to pick up all callsigns received, which can multiply the ability to determine propagation. We can do some SSB if we choose to.
Operating frequencies: I think 40m and/or 20m. I think these will show changes as the eclipse moves.
Vehicle: Ford plug-in CMAX (preferred) or Fusion, charged up and running off of the HV battery. I will run the station off of 12V if possible, using a 120V inverter for the laptop. I will bring my 800W AC inverter to run the entire station, if needed. The vehicle will be a test vehicle with monitoring software to log the energy consumption. I expect the vehicle will run on the battery alone during the event, even with the car turned on, but it will be fun to see.
http://www.hamsci.org/basic-project/2017-total-solar-eclipse
QSO Party: http://www.hamsci.org/seqp
73,
David
N8HKU